ORTHODONTICS WITH CLEAR ALIGNER (INVISALIGN)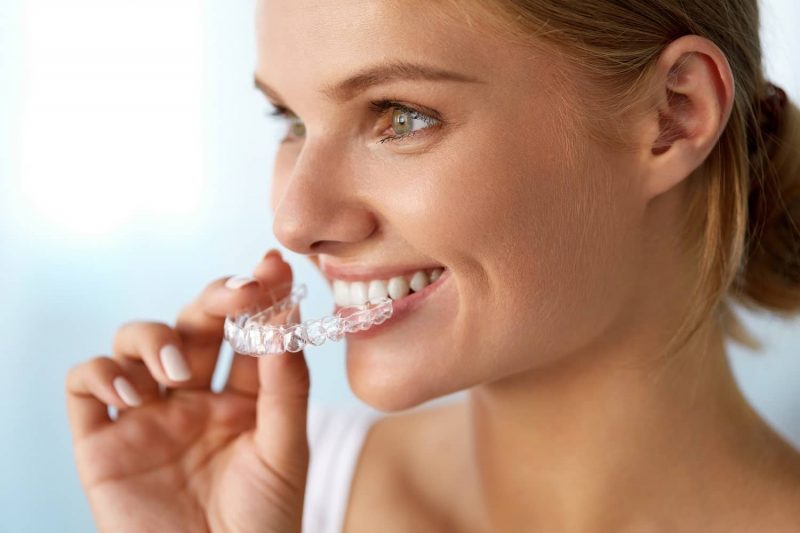 Orthodontic treatment with Clear Aligner(Invisalign) is an aesthetic orthodontic treatment option made without the use of dental braces. Thanks to technological advances, many orthodontic problems can now be corrected with the Invisalign treatment. Invısalign treatment options which are suitable for all needs for children, teenagers and adults are made in our clinic.
Advantages Of Invisalign
Due to the fact that it can be worn and replaced at any time on special occasions (engagement, wedding, etc.) you do not have to break for your orthodontic treatment, you can laugh as you want during your treatment.
You can make your oral care very comfortable because there are no braces.
Since the plaques are removed while eating, you can eat whatever you want. There are no stiff restrictions as in dental braces treatment in Invisalign treatment.
In other orthodontic treatment options, an orthodontist check-up is required once a month. During Clear Aligner(Invisalign) treatment, you can go for a check-up at longer intervals (every 2-3 months).
The only disadvantage of invisalign is that it is a treatment based on patient compliance. Effective results can be obtained if the plaques are worn regularly for 20-22 hours a day. If patients do not wear their plates regularly, treatment progress slows down and the process becomes prolonged.
The most commonly asked question of our patients is 'how much is invisalign treatment?' Clear Aligner(Invisalign) price varies according to the disorder in the mouth structure of the person and the number of plaques to be used. The Clear Aligner(Invisalign) brand used for this purpose is also an important element that determines the price. In our clinic, the most preferred Clear Aligner(Invisalign) worldwide brand is applied to our patients. The use of unproven systems is not preferred.
Before starting the treatment, records of the dental structures of the patients are taken and thanks to these records transferred to the digital media, approximately how the teeth will recover at the end of the treatment can be determined from the beginning of the treatment. In the same way, prior knowledge can be obtained about how many plaques should be used to achieve the desired goal in treatment thanks to digital planning. However, since it is not possible to imitate the response of living mouth tissues in the digital environment, in any case, these data are not definitive results. It is possible to give an estimated amount of time.